The workers compensation sector remains a relatively stable and profitable segment of the commercial insurance industry, but some claims are getting pricier and concerns over severity are rising.
While a years-long focus on workplace safety and legislative changes has reined in workers comp costs, and the frequency of claims continues to decline, experts say a confluence of factors is driving up the costs of claims when workplace injuries do occur.
"The severity trend has been pretty steady," said Jason Beans, CEO of Chicago-based Rising Medical Solutions LLC, a company that provides medical cost containment services.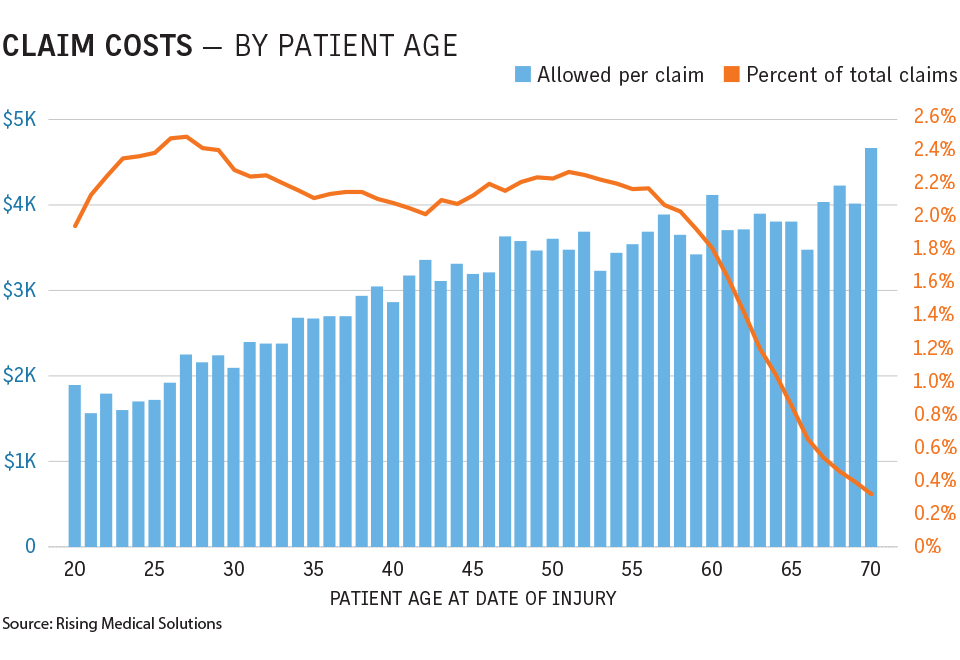 The aging workforce, medical inflation spurred in part by expensive medical technology, and rising wages, which lead to higher indemnity costs, are among the reasons claims severity is increasing, according to experts. Catastrophic injury severity is also a factor, albeit a smaller concern as debilitating events are rare (see related story).
The changing workforce — from older workers who take longer to recover to less-experienced workers who get injured more often — and rising medical costs, stemming in part from medical inflation, treatment innovations and hospital consolidations, were pegged as top concerns for the workers comp sector in a survey this year of 100 insurance executives by the Boca Raton, Florida-based National Council on Compensation Insurance.
"The bottom line is we are always watching severity," said Donna Glenn, NCCI's chief actuary, who said other factors in comp could offset the steady increase (see related story).
The Cambridge, Massachusetts-based Workers' Compensation Research Institute has also kept tabs on the increase in spending per claim. "Is it medical inflation? Is it the aging workforce? Is it comorbidities? Yes, to everything," said Ramona Tanabe, executive vice president.
Complicating the issue, she said, is that "every state has a reason for increases." WCRI releases annual reports on 18 states, representing data from more than half of comp claims nationwide. The latest figures, released in late April, show a steady increase in lost-time claims for most states. Those states without fee schedules are seeing a steeper climb.
Most experts agree that the aging workforce is a prominent cause of the increases.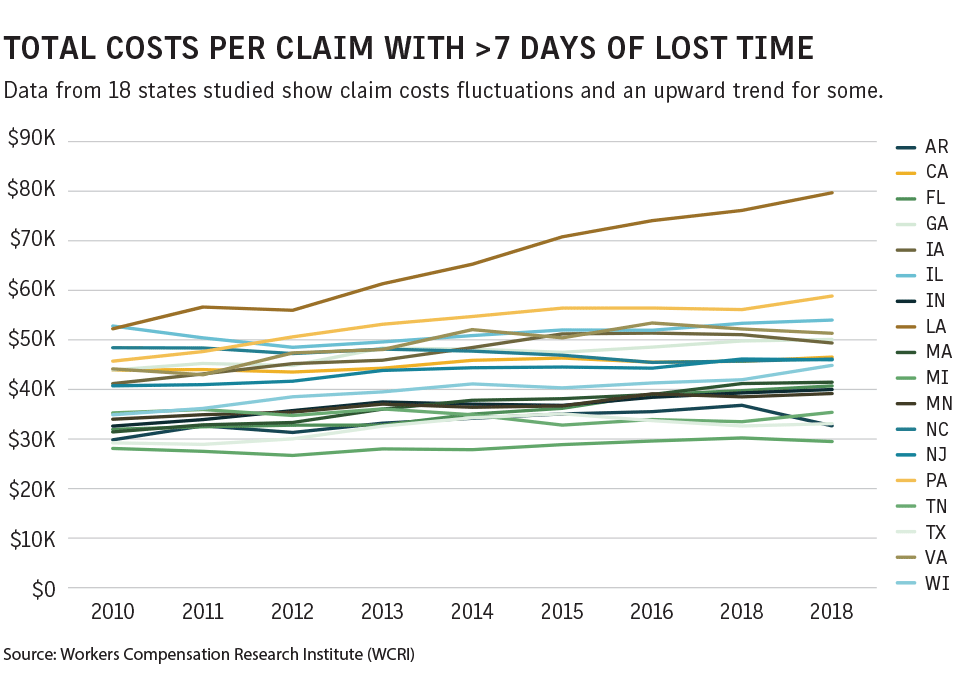 In 2000, 32.4% of the U.S. population aged 55 or older worked; by 2020, that share had climbed to 39.2%, according to the U.S. Bureau of Labor Statistics. In 2021, 23% of the U.S. workforce was older than 55, up from the 13% reported by the BLS in 2000.
"The aging workforce is clearly a factor," said Russell Pass, Itasca, Illinois-based chief information officer, executive vice president of product development, at third-party administrator Gallagher Bassett Services Inc. "Workers 55 and over account for over a fifth of lost-time injuries and 31% of costs."
Virna Rhodes, Cherry Hill, New Jersey-based senior vice president, workers compensation claims, for Liberty Mutual Insurance Co., said older workers are more likely to have comorbidities. "It is likely their treatment is going to be more expensive than that of a younger worker," she said.
"Comorbidities are starting to influence the severity question (and) a lot of that has to do with the health of our society," said Max Koonce, Fayetteville, Arkansas-based chief claims officer for third-party administrator Sedgwick Claims Management Services Inc.
While an estimated 80% of workers comp claims are medical-only, indemnity claims, which compensate for lost wages, are where severity will kick in, Mr. Koonce said.
For an older worker "it takes a little bit longer to bounce back" following an injury, Mr. Beans said, referring to data on age-related claims costs. It's a "crystal clear straight line" upward as workers age and costs increase, he added.
"In many cases, aging workers are more susceptible to having certain comorbidities like diabetes, heart disease or mental health issues, and those comorbidities can contribute to an increase in the severity of a workers compensation injury," said Mary Beth Pittinger, Whitehouse Station, New Jersey-based executive vice president, workers compensation, at Chubb Ltd.
"A slower healing process, more complex and expensive treatments, and longer time away from work can all result when a worker with a comorbidity gets injured," she said.
Tammy Bradly, Birmingham, Alabama-based senior director of clinical product marketing for comp services conglomerate Enlyte Group LLC, takes it a step further: "It's not just the aging workforce; it's the entire workforce. We are not a healthy population." Advocating for injured workers and worker wellbeing (see related story) has been a best practice in quelling severity overall, she said.
While younger workforces don't have the same incidence of comorbidity issues, they, too, can lead to more expensive claims.
With many employers reporting labor shortages, some may take on less experienced staff, whose lack of training may make them more vulnerable to injury, Ms. Pittinger said.
"Some industries impacted by the labor shortage, such as construction and manufacturing, are more susceptible to incidents that could lead to a catastrophic injury; like falls from heights, burns, and machinery- or driving-related accidents," she said.
Medical inflation
One factor that is tougher to manage is medical inflation.
In workers comp, medical inflation bumped up to 6.6% in 2021, compared with the three-year average of 6.4%, Mr. Beans of Rising Medical Solutions said. Increased utilization, or more treatments per injured worker, accounted for 2.8% of the increase, he said, adding that 85% of the remainder of the inflation was due to an increase in the services rendered in a hospital setting.
"The majority of the shift is going to more expensive care," Mr. Beans said. Outpatient "ambulatory" hospital services, rather than procedures performed in a doctor's office, are also driving up costs, as comp payers have to pay costly ancillary, facilities-based fees, he said.
Mr. Pass of Gallagher Bassett said mergers between medical facilities and consolidation of physicians practices are also adding to the increasing costs.
"The fewer (facilities) there are, the more bargaining power they have," he said.
"From a severity standpoint, from a cost standpoint, claims are going to cost more," Mr. Koonce said of medical inflation, adding that some states saw fee schedule increases in recent years, as "part of the normal process" stemming from regular federal Medicare cost increases, which help set comp schedules in most cases by law.
Emerging technology is also affecting claims costs, said Ms. Tanabe, who mentioned advances in medical imaging as one example.
"An MRI machine has more capability to see things than it did 20 years ago; things will get picked up and treated," she said.
"The technology has improved but it's more expensive. The equipment is more expensive; the treatment is more expensive," Ms. Tanabe said.
This article was first published in Business Insurance.