Employers nationwide are following the legislative push to accept COVID-19 claims by presumption in workers compensation, changes that aren't necessarily guaranteeing that such infectious disease claims will be greenlighted but instead promise a surge in litigation and confusion, experts say.
Given the new laws' many nuances, employers are "worried about staying on top" of the presumption trend, said Ralph Touch, Fleetwood, Pennsylvania-based senior vice president of claim operations at Gallagher Bassett Services Inc.
"For the very first time we have the entire insurance industry learning new laws on the fly," he said. "These are very big changes, and they are happening quickly. We are applying a disease (to workers compensation) that you could get walking down the street.
"There's no (case law) history, we don't have time to understand the implications of judicial rulings, and we have to make decisions."
As of Tuesday, lawmakers in nine states had passed such laws that clear the red tape for some workers to have their illnesses covered as a compensable work-related injury, and lawmakers in 13 states are considering or have considered such presumption bills, according to the Boca Raton, Florida-based National Council for Compensation Insurance, which is tracking the legislative trend.
Alaska, California, Illinois, Minnesota, New Jersey, Utah, Vermont, Wisconsin and Wyoming have presumption laws in place, according to NCCI.
Many of the laws, such as those California Gov. Gavin Newsom signed on Thursday and Illinois enacted in early June, are "rebuttable," meaning an employer can contest whether a worker was infected at work.
Some only apply to specific types of workers, labeled "essential" in many states — such as the one enacted in New Jersey on Sept. 14 — or strictly apply to those in health care or working as first responders. Vermont's law only applies to "frontline workers" whose jobs put them at "elevated risk."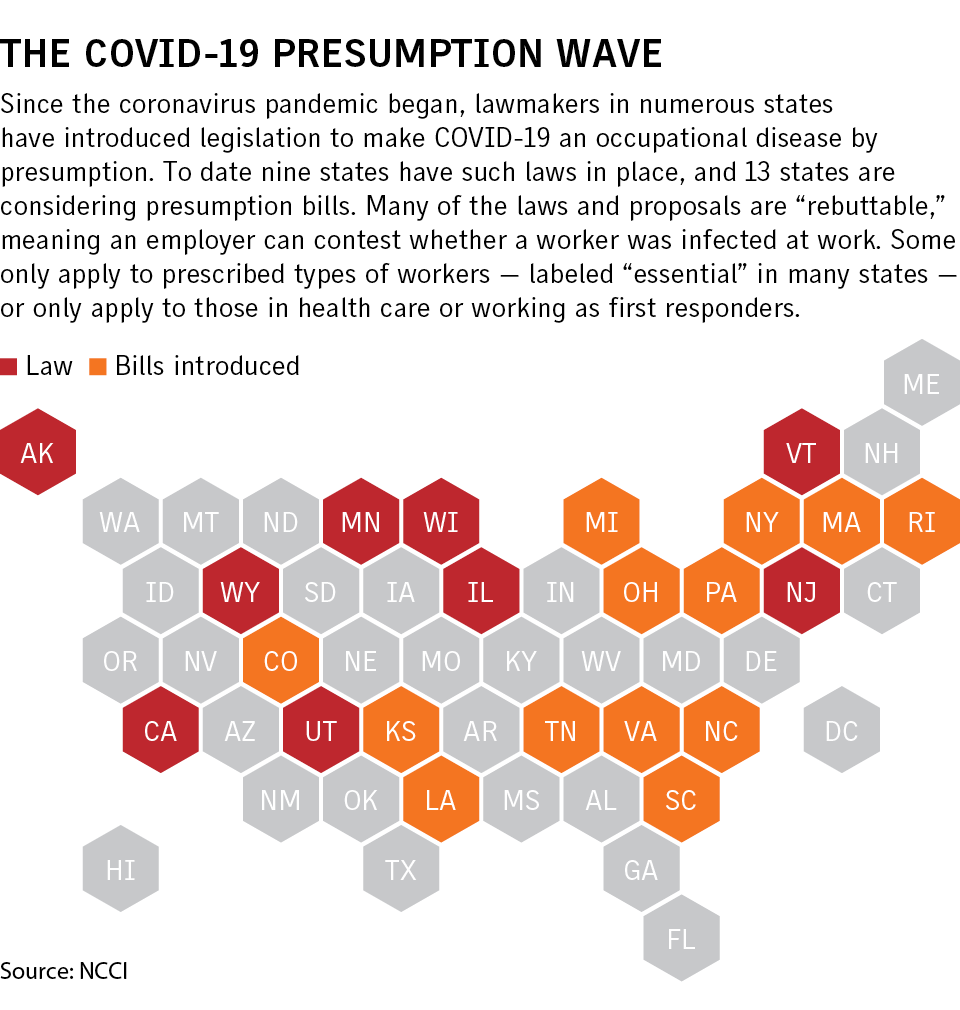 Will the presumption trend continue? Experts say to expect more states to take legislative action, as a number already have executive orders or other directives in place allowing for presumption, as California did before the matter became law.
"Employers were not shocked," said Benjamin Ebbink, Sacramento-based partner with Fisher Phillips LLP, of the most recent state to sign on — California. He called the California law "complicated" in that it allows for debate over where the virus was contracted — as many of the new laws do — and requires that there be a proven outbreak in the workplace.
There's "a lot of room for litigation and dispute," he said. "Attorneys on both sides are going to dispute" over COVID-19 claims.
The changes are also putting workplace safety in the spotlight, said Harry DeCourcy, Walnut Creek, California-based shareholder with Littler Mendelson P.C.
"Everybody is trying to do the right thing" regarding taking safety precautions, he said. Presumption laws are "just going to provide more monetary incentive to do so."
Under the Illinois law, the rebuttal can include details on workplace safety measures in place as a pushback to workers who say they contracted the virus on the job.
"Most of my clients have been pushing back against COVID claims mostly in the idea that it is not clear that it is related to work, even with the rebuttable presumption," said Rich Lenkov, capital member and head of the workers compensation practice at Bryce Downey & Lenkov LLC in Chicago.
"It is very difficult to prove that you got it at work," he said, adding the three-month-old presumption law "hasn't resulted in the massive amount of claims that we would think, largely because of the difficulty in proving" where one was infected.
This article was first published in Business Insurance.